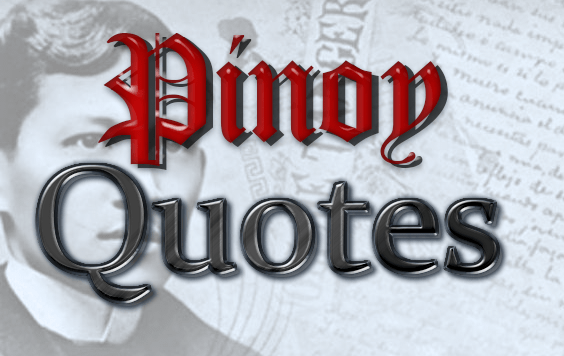 ➢ Quotes Page of Pinoy Search Network posts quotes, sayings and speeches from famous Filipino heroes, patriots, presidents, politicians, and other significant personalities in the Philippines.
"I have to believe much in God because I have ...
Link↗
Quote ➤ Jose Rizal — One only dies once, and ...
Link↗
Jose Rizal – Our liberty will not be secured at ...
Link↗
"What said those two souls communicating through the language of ...
Link↗
Quotes ➤ Macario Sakay – Death comes to us all ...
Link↗
Quotes ➤ Miguel Malvar – Forward without ever turning back Miguel ...
Link↗
Ninoy Aquino – "For seven years, I was not allowed ...
Link↗
"It is a rare privilege for me to join the ...
Link↗
Ninoy Aquino – No to tyranny! No to corruption! No ...
Link↗
"Son, my decision is an act of conscience. It is ...
Link↗
FAIR USE DISCLAIMER: The following data is for educational, scholarship review and archiving purposes only. By viewing this information, you release the website and its authors from any responsibility or liabilities. Though we verify and maintain the accuracy of the provided data, the absence of unintented typographical and factual errors cannot be guaranteed. Use the page at your own risk. For any suggestions, updates, credits or correction requests, contact us or comment below.