Martyr, National Hero, Military Leader, Father of Revolution, Patriot, President (Unofficial)
Born: August 20, 1939 - Tondo, Manila - Died: May 10, 1897 - Maragondon, Cavite
Andres Bonifacio Profile
➢ Revolutionary Father
Andres Bonifacio y De Castro
, better known as
Andres Bonifacio
, was born on August 20, 1939 in Tondo Manila. He was the President of the
Tagalog Republic
and the Supreme Leader of the
Katipunan
or
KKK
(
Kataas-taasan, Kagalanggalangang Katipunan ng mga Anak ng Bayan
) which fought for the independence of the Philippines from then colonizer Spain by means of armed revolution. He is also unofficially the First President of the Philippines, and the de facto National Hero just like
Dr. Jose Rizal
.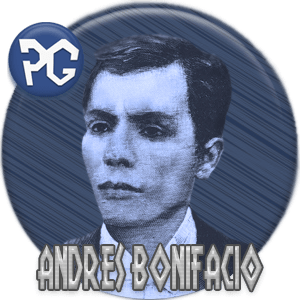 Photo Credits: Wikimedia Commons
Personal Life of Andres Bonifacio
Bonifacio is Filipino-Mestizo through his mother, Spanish Catalina de Castro who hailed from Zambales. His father Santiago Bonifacio, meanwhile was a teniente mayor in Tondo.

Bonifacio learned the alphabet at the age of 10. He also studied Latin and Mathematics via a private school. He was also known to be fluent in Spanish and English. He read books about Penal and Civil Codes, the French Revolution, Biographies of United States Presidents, Les Miserables, Le Juif Errant, Noli Me Tangere and El Filibusterismo.
Andres Bonifacio died on May 10, 1897 at the age of 33 in Maragondon Cavite. He was tried and unjustly executed (murdered) together with his brother Procopio, by the Magdalo faction of the Katipunan headed by
Emilio Aguinaldo
- all to wrest political and military power from Bonifacio. This blot in Philippine history forever tarnished the name of former President Aguinaldo.
Parents:
• Mother: Catalina de Castro
• Father: Santiago Bonifacio
Spouse:
• Monica (c. 1880–1890)
• Gregoria de Jesus (1893–1897)
prepared for Pinoy Search Network - Last Update made June 12, 2018
FAIR USE DISCLAIMER: The following data is for educational, scholarship review and archiving purposes only. By viewing this information, you release the website and its authors from any responsibility or liabilities. Though we verify and maintain the accuracy of the provided data, the absence of unintented typographical and factual errors cannot be guaranteed. Use the page at your own risk. For any suggestions, updates, credits or correction requests, contact us or comment below.