Writer, Reformist, Doctor, Martyr, Patriot, National Hero
Born June 19, 1861 - Calamba, Laguna - Died December 30, 1896 - Bagumbayan
Jose Rizal Profile

➢ Jose Protasio Rizal Mercado y Alonso Realonda, popularly known as national hero Jose Rizal, was born on June 19, 1861 in Calamba, Laguna. Rizal was the key leader of the propagandist movement, with his literary works and unjust execution serving as the catalyst for the subsequent revolution and eventual Philippine independence from Spain. He was a writer, an opthalmologist, a polymath, and a Filipino patriot.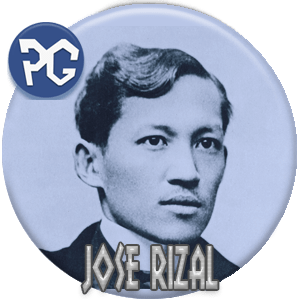 Photo Credits: WikiMedia Commons
His popular works included novels which pushed for political reforms and recognition of the Filipino, namely
El Filibusterismo
and
Noli Me Tangere
and several literary pieces. He was unjustly accused and summarily executed by the Spanish government in Bagumbayan Manila on
December 30, 1896
by firing squad.
Personal Life of Jose Rizal
➢ Rizal was the seventh born of the eleven children in the Rizal family. His Filipino parents Francisco Mercado and Teodora Realonda were rich farmers in Calamba Laguna and had Chinese-Spanish lineage. Fondly called "Pepe", Jose learned to read and write at an early age of five. Historian Austin Craig also claimed that Rizal was a descendant of Lakandula, the famed Rajah of Tondo from the pre-colonial era.

Due to the order of Governor General Francisco Claveria, Jose's Father Francisco Mercado was forced to adopt the surname Rizal (which meant Green Rice Fields), hence the change to Francisco Mercado Rizal.

Parents:
• Father: Francisco Mercado Rizal
• Mother: Teodora Alonso Realonda

Spouse:
• Josephine Bracken (1896)
prepared for Pinoy Search Network - Last Update made June 6, 2018
FAIR USE DISCLAIMER: The following data is for educational, scholarship review and archiving purposes only. By viewing this information, you release the website and its authors from any responsibility or liabilities. Though we verify and maintain the accuracy of the provided data, the absence of unintented typographical and factual errors cannot be guaranteed. Use the page at your own risk. For any suggestions, updates, credits or correction requests, contact us or comment below.